ZFS: some stuff i have learned
Ok, this is more of a Random Post than anything else, but here goes nothing…
I have been playing with ZFS for the last couple of weeks, under a VMWare VM with a copy of Nexenta Core and i am quite impressed.
Some things i have learned to do and how they work below:
So, thats pretty much it. i will leave you with this (click to see the full size)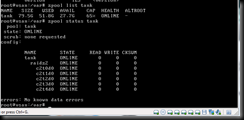 this is the status of my mini SAN here… not doing a lot, but those disks are all 16Gb, in RAID 6 (ZRAID2). and its nice and fast!